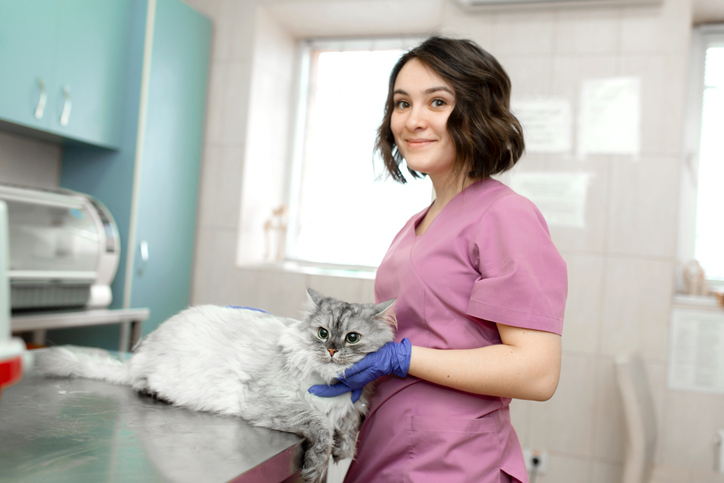 As soon as you open a veterinary clinic, you're constantly faced with the challenge of making your business better. How can you grow your clinic? What can you do to improve the health of your patients and the happiness of your clients? How can you make life easier for your employees while improving their performance? Here are 7 things you should look at when you're trying to improve your practice.


Find a Good Balance Between Work and Home Life:

Burnout is a major problem in veterinary medicine, and it's not just the vets who are burning out. Vet techs have a high turnover rate, and stress among medical staff spreads to office staff. While compassion fatigue is a serious issue, most veterinarians say the leading issue is time management. Before you jump into expansion, make sure your staff can handle the current work load. If not, concentrate on adding employees and improving the tools and techniques they have. Reducing stress helps your clinic retain staff and improves the care you're able to offer clients.


Stay On Top of Education

Training isn't just for medical personnel. Office staff can benefit from software, terminology and regulatory training, helping them work more effectively while keeping your practice compliant with regulations. Offering continuing education and professional development doesn't just improve your staff's skills, it helps you hire and retain better talent.


Work With Your Staff to Improve Workflow

Small problems can take a large chunk out of your available time, and makes work frustrating for everyone involved. Workflow improvements can range from designing clinics that make it easy to move between examination and office spaces to changing how electronic health records move through your computer system. However, sometimes issues can be resolved by talking to your staff. If they notice issues with stocking supplies, services that are eating up time, or places where clients get stuck waiting, address those issues first.


Identify and Address Holes in Local Health Coverage

Is there a place where you can refer clients to if their pet needs dental work? What can you do if a client needs help with an exotic pet? If you're noticing gaps when you refer clients, your clinic may be able to fill them.


Work on the Whole Pet Health Experience

There's more to a successful clinic than the exam room. Adding services can make your clinic a one stop shop for animal care, which both encourages business and makes pets more comfortable with visits. Done well, this can boost your clinic's income and client retention.

This can be as simple as making sure your retail space stocks the products you recommend to patients. Even if they can buy these products cheaper elsewhere, the convenience can be worth the extra cost. Bringing in other pet care-related services, like grooming and boarding, encourages visits while giving clients peace of mind knowing that these services have your clinic's approval.


Improve the Waiting Experience

Clients are already on edge when waiting for an appointment, and making the waiting area unpleasant for them and their pets just makes it worse. Look at your setup and ask yourself these questions:

- Is your waiting room set up to keep cats away from other animals?
- Are there places for clients to attach dog leashes?
- Is there space for clients to sit with pet carriers next to them?
- Is there a way for clients to bring their pet outside for long weights or potty breaks? Can they be contacted while outside?


Stay In Contact

Most of your clinic's business is from regular customers, so it pays to keep your clinic on their minds:

- Offer several choices to share information with clients, including mail, phone, email and text.

- Build a solid presence on the Internet. Word-of-mouth is your most important marketing tool, and online reviews are an increasing part of this communication.

- Mail should not be underestimated. While it's easy for an email or a phone message to get lost, a card gives clients a physical reminder of an upcoming appointment.

- Look at how you can use these promotions together. You can send out reminders for annual treatments, and steer clients toward a web page with detailed information as well as a phone number to call for questions and appointments.


We Make it Easier to Run Your Clinic

For over 12 years, Positive Impressions, LLC has helped veterinary clinics and hospitals build relationships with their clientele. Looking for ways to connect with clients? We offer a wide range of cards for appointment reminders, holidays and sympathy. Want to make sure your contact information is always at hand? We offer paper and magnetic business cards, as well as calendars.

Our Label Wizard makes it easy to get pharmacy labels that will work with your printer. We also custom print subscription pads and bags, and we offer pre-printed warning labels for medicines and kennel tags. See how we can help your clinic by visiting our website to see what we offer, or check out our Facebook page to see our latest specials.