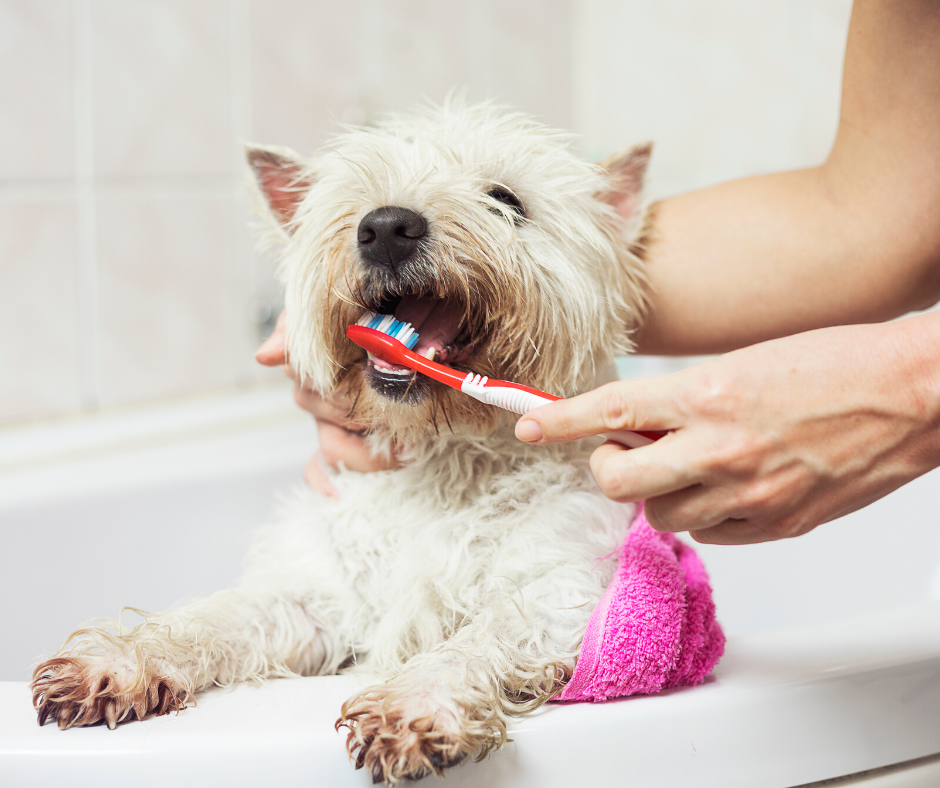 What is the number one health problem in dogs and cats? According to the American Veterinary Medicine Association, it's oral diseases. Periodontal disease is prevalent among cats and dogs, which leads to worse problems down the line. How can you encourage your clients to take better care of their pets in and out of your office?


What Do Clients Not Understand About Pet Dental Health?

February is Pet Dental Health Month, but dental health is important year-round. Fido might not be scarfing down sugary treats, but the family pet is just as susceptible to dental problems as its owners. About 80% of dogs and 70% of cats show early signs of periodontal disease by the time they're three years old. As plaque buildup below the gum line increases, it can lead to infections and damage to the jawbone. While home dental care and yearly exams are important to pet health, they're routinely ignored.


Common Questions from Pet Owners

According to the AVMA and the Veterinary Oral Health Council, these are the most common concerns owners have about their pet's dental health:

Why does my pet need anesthesia for dental work?
Anesthesia is necessary for pets because they don't know what's going on. This is especially true for X-rays, since the animal should be still to get a clear image.

Do I really need to brush my pet's teeth?

Dental treats can remove plaque mechanically, but they aren't 100% effective. While the AVMA says daily brushing is ideal, three times per week is reasonable for most pets. It may take some time for a pet to get used to tooth brushing, along with some trial and error testing to find a toothpaste flavor it likes.

What should I look for in dental treats?

Look for the VOHC seal. Like AAFCO's pet food recommendations, adhering to VOHC standards is voluntary. Treats with this seal are shown to remove plaque while causing no health problems including obstructions, oral damage and nutritional issues. A treat will lose certification if it has trouble in any of these areas. So far, only two treats have been disqualified, and those treats are no longer on the market.

That said, certification isn't foolproof. The animal needs to chew the treat to be effective. If the pet gulps the treat down, it won't be effective. Problems with choking are usually caused by owners giving pets the wrong size of treat.

There's one question that doesn't get asked enough: What should I not give my pet? Tennis balls are abrasive and can wear down enamel. Bones are also hard on teeth, and can cause intestinal problems.


Signs of Dental Trouble

If clients know behavior is related to dental health, they're more likely to get treatment for their pet. There are several symptoms that are obviously related to dental problems:

Bleeding from the mouth
Discolored or tartar-covered teeth
Swelling in and around the pet's mouth
Pet paws at mouth or rubs mouth against objects, like it has a bad itch

Other symptoms may be caused by dental issues, but they aren't obviously linked:

Irritability and changes in behavior
Bad breath
Reduced appetite
Weight loss
Abnormal chewing and drooling
Tendency to drop food from mouth



Tips for Tooth Brushing

Telling clients to brush their pets' teeth is one thing. Getting their dog or cat to let them brush is another. Clients should work their way up to brushing, getting their pet ready in steps:

- Staying at eye level with the pet can help. Standing over the animal can seem threatening.
- Try a variety of toothpaste flavors to find one the pet is interested in. Feed a small dab as a treat. If the animal stays interested for a few days, they'll be more amicable to brushing.
- Touch the mouth and teeth of the pet. After a while, they'll get used to this feeling.
- Once the animal accepts tooth brushing, try to keep them on a regular schedule. Avoid brushing when the animal is sleepy.


Resources for You and Your Clients

Add dental information to new patient packets, and include dental reminders as part of your client notifications. Dental-themed reminder cards are a great way to encourage clients to catch up on their pet's oral care.

The AVMA has a toolkit for veterinarians looking to promote better dental care for their patients. This includes free-to-use images, pamphlets and other resources you can use for promotion.


We Can Help You Help Your Clients
Positive Impressions, LLC has everything you need to stay in touch with your clients. Since 2008, we've provided veterinary clinics and hospitals with products and supplies that make clients feel cared for while encouraging better health care. This includes everything from goodie bags to dental record diagrams, and even dentistry-specific reminder cards. We offer custom printing on most of our products, so you can add your own personal touch. Not sure where to start? Check out our current specials on our website, or visit us on Facebook.