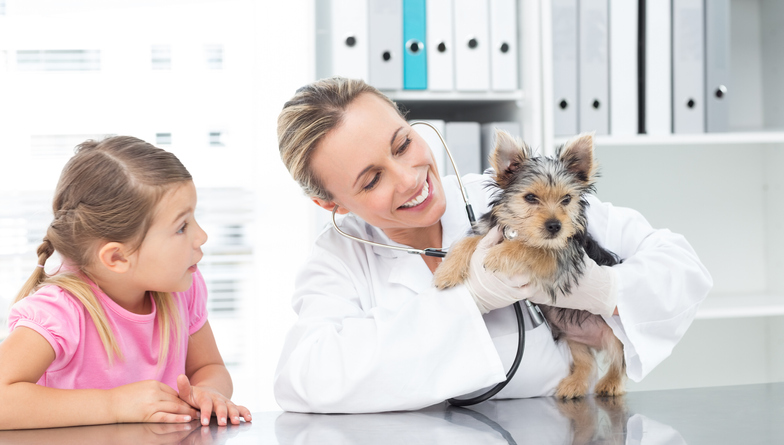 For the most part, when we see our patients, we just want to see them and their adult owners. However, some owners also bring their children with them. Babysitters aren't available, the child wants to be with their pet, or maybe they're an aspiring veterinarian. These tips will help set up a pleasant experience for everyone involved, and the kids may learn something along the way.


Help Parents Prepare their Kids for the Visit

If you're lucky, the parents will ask about bringing their kids in before the visit. Along with setting some rules, there are some questions you can suggest parents can ask to start a discussion about the visit:

What does a veterinarian do?
Why is the pet seeing the vet?
What will happen during the visit?
Do you have any questions you want to ask the vet?
How do you feel about going to the clinic?
Have any of your friends been to a vet office?

This sets up realistic expectations about what will happen at the office, as well as how they should behave. They also need to know that a friend's experience won't necessarily be the same as theirs, good or bad.


Set Up a Play Area

Keeping young ones entertained doesn't just help them stay happy: it helps keep them away from the animals.

Older kids will be glued to their phones and tablets, but younger kids are likely to get bored and cranky, or decide they want to visit with the other animals.

Loose toys can be a hazard for pets, but there are plenty of self-contained toy options like cubes, bead rollercoasters, and fixed wall panels. If you have TVs in your waiting area, consider setting one to a kid-friendly channel.

Even if you have a dedicated play area, coloring books are a great way to keep kids entertained and seated so they don't get in the way. It's also a good option for kids that need to be next to their parents.


Explain What's Going On

During the visit, you and your staff need to explain to the child what is happening to their pet. What are you looking for? What are you pressing on? Why are you moving the ears around on the dog? Talking through the exam process helps kids understand what you're doing and takes the fear out of the process. If the child and the animal are going to be separated, your staff should explain in simple terms what is going on and why the animal is being taken away.


Have Them Take Hands-Off Approach

While you may have an adult owner hold an animal to keep them calm during evaluations and shots, it's better to keep kids at a distance. Cats are especially nervous at the clinic, making them more likely to bite anyone annoying them.

Kids should not be present during medical procedures, as they may not understand why their pet is uncomfortable or distressed.

You may hand out treats to animals, but when it comes to well-behaved kids, it's usually safer to reward them with stickers. It's fun and it gives them a memento from the visit.


Set Up a Favorable Shadowing Experience

You or some of your staff probably shadowed a veterinarian before entering school. This is all but required for high school students looking to enter veterinary school, but younger kids are also being encouraged to shadow professionals as they look for careers. Programs built around veterinary camps will be planned out by people experienced with clinics, but you may need to work with school-based programs to set up some basic expectations.

Before they visit, give the student a clear outline of what the student is and isn't allowed to do. The most common complaint from clinics stems from students asking questions during exams. Make sure they can write down questions to ask after a patient visit. It also helps to give them a way to respectfully leave the room if things become difficult during treatment or when having to deliver bad news to a client.


Want to Make Your Clinic Kid Friendly? We Can Help.

Positive Impressions, LLC has spent over a decade helping veterinary clinics and hospitals connect with and build long-lasting relationships with their clients. That includes more than just reminder cards and prescription labels. We also offer pet-themed stickers to reward good behavior, and we just added coloring books that you can have custom printed with your clinic information. We run new specials on our products each month that you can check out at our website.