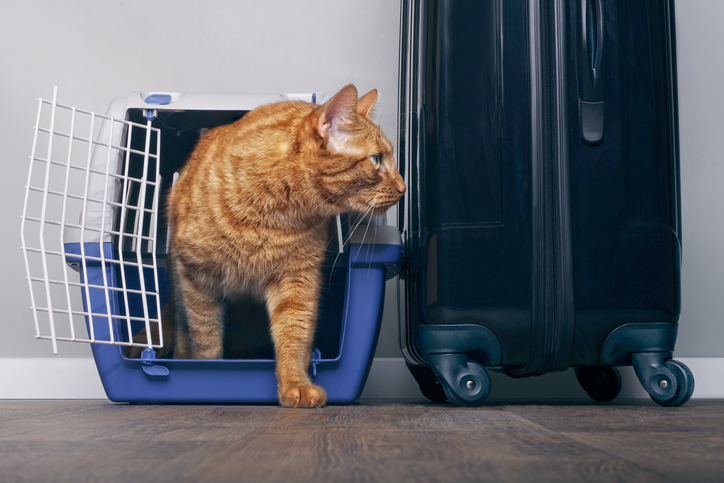 Pets are a part of our families, and that means they're often brought along for holiday visits to relatives. While it can be fun for pets and family to mingle, it's also a recipe for disaster. Travel is hard on animals, and pets in new environments may be scared, or they may find new opportunities to get into trouble. These tips will help you prepare your clients for traveling with their pets.


Make Sure They Have the Right Pet Carrier

Pet carriers protect the pet if there's an accident, and it keeps the animal from interfering with the driver. Owners don't just need to get an adequately-sized carrier, they need to train their pet to be comfortable inside of it. Crate training techniques work as well with carriers as they do standard cages.

For flights, pet carriers almost always need to be FAA approved. These soft-sided mesh containers are nothing like the hard plastic crates used for car trips.


Preparing for Air Travel

The owner needs to be realistic about taking their pet with them. Restrictions vary depending on the airline, and these change all the time. Only the smallest pets can be placed in carriers that count as carry-on luggage since they are only allowed in under seat storage. This space can vary from plane to plane, and even seat to seat. If the animal is too big, it must go into the cargo hold, which can be a stressful, uncomfortable experience.

Pets can be desensitized to airplane noise by playing recordings of airplane sounds. Once they're familiar with the loud sound of a jet, they'll have one less source of stress on the trip. Recordings are readily available online. In some cases, it may be advisable to give their pet a sedative before the flight to calm their nerves.


Identifying the Pet if it Gets Lost

Reuniting pets near their home is difficult, but it's a far greater challenge when the animal is far from home. As part of a pre-trip checkup, it's important to make sure the animal's microchip is up to date. The manufacturer's database needs to have current cell phone numbers

A pet tag will let the finder contact the family immediately. This can get the pet back hours sooner. Rabies tags can be used for identification, but only if the office that issued the tag is open. This is an issue year-round, but especially this time of year with offices shut down for the holidays.

Inside the U.S, microchips are made to be read at a frequency of 125 kHz, while the rest of the world uses chips that are read at 134.2kHz. If the pet is crossing the border, it will need a 134.2kHz chip.


Put Together a Pet Travel Kit

When traveling, the client needs a basic first aid supply kit for their pet, including bandages and cleaning agents. Curious pets are more likely to dig into bags and boxes when they're in new environments, so extra care must be taken to ensure they don't get into their medicine.

Have them pack one of your business cards with the kit. This makes it easy to call your office for medical advice. When traveling, it also gives vets the contact information they need to get medical records and other information. Travelers should also have a list of pet hospitals in the area they're staying in, as well as useful health information numbers like the ASPCA poison control hot line.


Go Over Toxic Foods and Decorations

From Halloween to the New Year, we fill our homes with foods that are poisonous to our pets or can give them digestive problems. Combine this with relatives who don't know better, and it's easy for pets to eat something dangerous. These foods are the most common causes of health problems during the holidays:

- Cocoa and chocolate
- Grapes, raisins and currants
- Xylitol
- Meat scraps
- Turkey
- Bread dough
- Rich, heavy foods

There are also non-food items that are popular during the holidays and poisonous to pets:
- Poinsettias
- Mistletoe
- Peace lilies and Christmas lilies
- Small ornaments and decorations


Go on a Trial Trip

The best way to find out how well a pet is suited to travel is to take a short trip. This lets owners identify and address issues before they're stuck with a sick pet on a multi-day holiday trip.


We Can Help Make Your Clients and Patients Happier This Season

Positive Impressions LLC does more than just veterinary reminder cards and memorial products. We have holiday greeting cards, as well as fall and winter-themed cards. Want to send something special? Our pet-themed calendars make great end-of-year gifts. Need something permanent for your clients' first aid kits? We offer both magnetic and standard business cards. We offer custom printing for most of our products, letting you add clinic information, logos and even your own images and text. Come see what we have to offer by checking out our latest specials on our website.